Howdy Folks
Well the RV's are in storage and we're getting ready to settle down, batten the hatches and hope winter isn't too hard on all of us.
The best way to make the winter months go quicker, is to keep pickin', and the best place to do that, is at the Jacquet River Legion hall, every second Sunday afternoon from 2-5 PM.
Silver Fox Bluegrass (Eddie, Willie, Robert & Everett) just finished a great summer appearing at several Bluegrass festivals, in New Brunswick, Prince Edward Island, and New Richmond, plus concerts in Bonaventure, and New Richmond Que.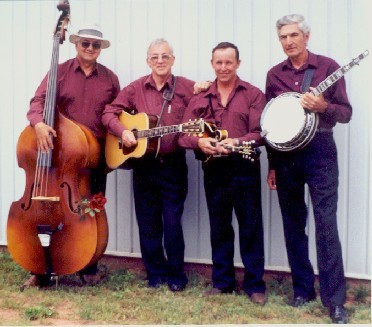 We are hoping you will all be able to come and join us when you can, for an afternoon of bluegrass & old country music, at the Jacquet River Legion, when we start our 6th. season on November 16th.
If you sing, play, or dance, come and join us for our open mike segment.
Or if you prefer to sit and listen that's just fine, you'll meet old friends, and make new ones.
For our first parlor, the ever popular Silver Haven Cloggers who appeared at the Traditional Days Festival in New Richmond will be there kicking-up their heels.
Until next time, may your grass always be blue.
Eddie