LONESOME WIND BLUEGRASS BAND
The Gaspesian British Heritage Village, New Richmond, Quebec.. will be a co-sponsor of the Tourism Quebec / Quebec Maritime trade show booth at this year's Toronto Outdoor and Travel Show, the weekend of Feb 20-22, 2004.
In partnership with the Traditional Days Bluegrass Festival, the group LONESOME WIND from London, Ontario will be playing at the booth on Saturday, Feb 21 between 2-4pm as a promotion of bluegrass music and the Traditional Days Bluegrass Festival, which LONESOME WIND will be featured the weekend of September 2-3-4-5, 2004 in New Richmond.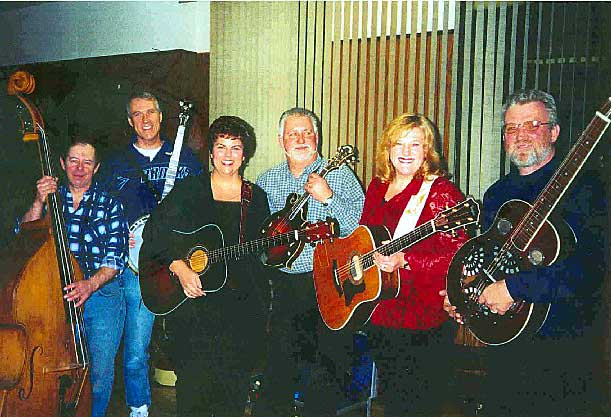 The group is comprised of:
Guy Tellier: upright bass
Paul Hurdle: banjo
Maria Polillo:... guitar and vocals
Guy D'Entremont: mandolin and vocals
Pam Brooks-Armstrong: Guitar and vocals
Al Widmeyer: dobro, fiddle, guitar and vocals

The group launched a demo CD in 2002 and is currently in studio recording their first full length CD to be released in the coming months.
The group has already appeared at the following events:
CKNX Barn Dance
Gibson Bluegrass Showcase, Nashville, Tenn USA
IBMA Louisville, Kentucky
Rush Creek Bluegrass Festival, Alymer, Ontario
Dresden Fall Festival, Dresden, Ontario
CKWR FM radio, Waterloo, Ontario

They can also be heard on the internet at www.tcmradio.com, Tampa, Florida
For more information, contact Walter at 418-392-4487