The Daily Sun, St John, N.B.
Wednesday Morning
February 7, 1883 ...continued

By
Rev. J. C. Herdman, B.D., of Campbellton, N.B.

(Written as I have found it, grammatical errors and all)

CHURCH LIFE AND PROGRESS.

From the land of their birth the early settlers in Restigouche brought out good religious knowledge, fixed principles, and a reverence for ordinances and church privileges, which characterizes congregation in this quarter to this day. For a long time they had to mourn the fact that they were as sheep without a shephard. Indeed the first services they enjoyed were what they themselves procured and provided. Very interesting is it to note, that at an early period they were wont to assemble reverently on the Sabbath at a house on the Appletree proper midway between Athol House and Campbellton. There they would read from the Bible, and sing praises to their fathers' God whose blessing they felt they needed in this new strange land, and one of their number frequently read from some highly prized book of sermons a suitable discourse.

And thus was the flame of religion and piety kept alive, even amid untoward circumstances. And after a while a church building visible bond of union and joyful symbol of blessing - was werected on the Athol House property. The residents in Restigouche had from the first settlement of the place been mostly almost entirely, Scotch in nationality and Presbyterian in faith; belonged in a word and have never lost their attachment to the Church of Scotland.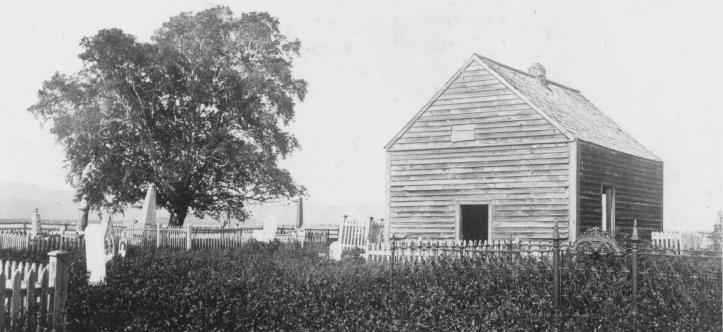 This is a picture of the Athol House Church which Rev. Herdman was speaking of. I am not sure when it was finally torn down but the cemetery is still there and the oldest known stone dates 1791. A picture of which is at the bottom of this article.
They had frequently besought Mr. Lee to grant them land for the erection of a building; but Mr. Lee who, along with one of two other prominent men in the neighborhood, adhered to the Church of England, declined to grant their request. When the estate passed into the hands of Mr. Ferguson permission was readily given. A building was put up, about the year 1805, and remains to this day in a really wonderful state of preservation. It was built of the best pine, well-wrought, carefully put together, everything made by hand; and although long disused, did not so much as let in the rain until a few years ago. The old pulpit survives still, in the school house preaching station at Hartlands. Around the old church at Athol House, land was set apart for graveyard purposes; and ever since, winding processions have wended their way thitherward, and to-day, so crowded is the cemetery with its dead, and so distant too its situation from the town, that a new and convenient site has become necessary.
In the church, occasional services from ordained clergymen, both of the Church of Scotland and the Church of England, were forthcoming. For such services, the district was dependent mostly upon Miramichi. Some of the clergymen who, during this period visited Restigouche, endeared themselves to the people even within the limits of a brief stay and are remembered by several of the oldest residents at the present day: among whom may be mentioned Rev. Messrs. Young, Pigeon and McLean. This latter gentleman, a graduate from the Pictou Academy under Dr. McCulloch, was so highly appreciated, that the people were putting their heads together to see about issuing a call to him to be their minister, when they were anticipated by the Presbyterians of Richibucto. Finally application was made to the Church of Scotland, in Scotland, to the Colinial Committee (composed chiefly of Glasgow merchants), who interested themselves at that time generously and judiciously in the needs of the North American colonies. As a result of the application, there came out in the fall of 1831 the Rev. James Stevens, from Stranraer, Wightonshire. Needless to say that he received a hearty welcome, and endeared himself at once to the people. He brought out and also subsequently sent for Bibles, catechisms and religious literature, and in every possible way ministered to the spiritual wants of his charge. In 1831 a handsome church was erected in Campbellton, through the joint exertions of the families on the both sides of the river, and above and below the town. This building, now about 52 years old, has ever since been, and is now, used for purposes of worship. It has, of course, seen repairs and its former steeple was destroyed by lighting some years ago; but it remains still very much as built.
The worshippers used to come long distances especially on sacrament occasions, when there would be some present all the way from Bathurst. Here, in the old Session Book, is a record of the first communion: "The Holy Sacrament of the Lord's Supper was dispense... in the new church at Campbellton on the 30th September, 1832, for the first time to a Presbyterian congregation, when 80 communicants partook of the sacrament. I had to perform the whole duty myself. James Stevens." The congregation steadily throve. Glebeland was assigned to them in 1879. At an early period of its existence, this Presbytery was divided into two ......., of which one was named the Presbytery of Restigouche, having at the time of its establishment four congregations - New. Richmond, Campbellton, Dalhousie, Bathurst. Mr. Stevens was appointed the first Moderator. This Presbytery became defunct in 1877, its congregations having all by that time entered into the Presbyterian union.
Mr. Stevens ministry lasted 1831-64. His labors were most assiduous. He went through an enormous amount of personal fatigue in the discharge of his pastoral duties. For a long time there were no roads and his nearest clerical brethren were far away. It was no easy matter to get round to his parishioners, much less to make his way to Presbytery or Synod. He was a strong, rugged man, gentlemanly and courteous, one who could travel on snow shoes, or take a horse round the coast lines on the sand and gravel, or though the tides, with anyone. His funeral in January, 1864 is said to have been the largest ever know in the country, but he lives still in many memories and hearts.
He was succeeded in the pastorate by Rev. Wm. Wilson, sent out by the Colonial Committee as missionary, 1865-'68. His next charge was in Chatham, N.B., where he spent ten years; thence going to Scotland, and now pastor of the North Parish Church, Aberdeen, with communion roll in 1882 of 2,371 communicants.
Mr. Wilson was succeed by Rev. Wm. Murray (called from Fredericton), 1869-'77;since then minister of New Carlisle, P. Q., and now in Scotland. The present pastorate began in 1878.
Dalhousie was constituted a separate congregation from Campbellton in 1855, between which date and the present time, it has enjoyed the ministrations respectively, of Messrs. Forbes, W. Murray, J.Murray, Russel. Further down the county, Presbyterian church history has centred on the names of Messrs. McMaster and Nicholson. New churches (the first named especially a fine one,) have lately been erected in Dalhousie, New Mill, Jacquet River.
There are several R. C. chapels in the country, and on the Quebec side a chain of them from Metapedia down to Gaspe Coast.
The Methodist church has a following in Campbellton and other points in the district; as also the Episcopal, whose head-quarters are in Dalhousie.
To be continued...