The worst wreck on the INR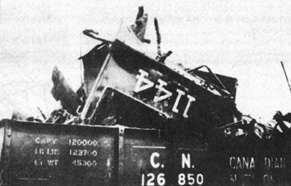 The worst wreck on the INR took place on May 29, 1943 when two trains collided head-on, the result of a time mix-up. Four railroaders were killed.
The impact of the two trains demolished both steam engine and both boilers came to rest off their tracks in the ditch.
Engineer Keith was found in the ditch by baggageman Heppell who moved him to the baggage car to await medical help.
Conductor Fraser on Extra 1160 West suffered a very serious head injury and might not have survived had it not been for a nurse travelling as a passenger on train No. 216. She controlled Fraser's bleeding by using cooking flour found in the caboose.
But three men were dead at the site of the collision: John Fitzgerald, the fireman on Train No. 216 who couldn't get out of the cab in time, engineer Robert Adams and fireman Ian Dobson, both from the Extra 1160 West. Front trainman Felix Smith on the same train was fatally injured and died the following day in hospital in Campbellton.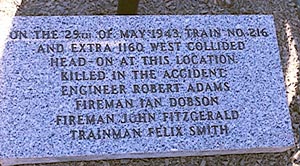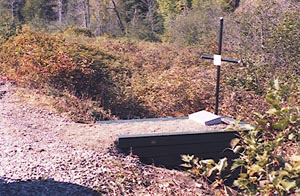 All members of both train crews along with most passengers on train No. 216 received injuries, some minor, others serious.
All trains at the time were equipped with portable telephones which could be connected to the telephone line along the right of way. After conductor Len Akerley advised the train dispatcher of the collision, a hospital train in charge of assistant superintendent Pryor Caldwell, accompanied by Dr. J.J. MacPherson and other medical people, was dispatched from Campbellton and was at the scene within hours. The injured were given medical assistance and the train returned to Campbellton without delay, arriving early in the evening.
After a lengthy period of recuperation, engineer Keith and conductor Fraser, the two most seriously injured employees, returned to their former duties.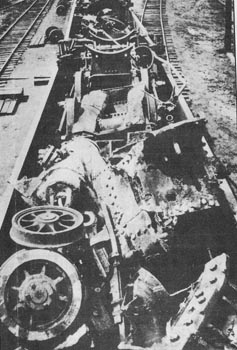 The train was so mangled it had to be brought home on a gondola.