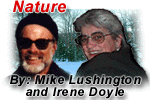 Notes of Restigouche
by: Mike Lushington
After a rather long absence from the birding world, occasioned by the Canada Games and by our anual escape south, I finally managed to link up with Andy Watson and Steve Methot this morning to resume our weekly surveys of what is happening in our part of the world.
This has been a hard winter and, despite the mild weather of recent days, there is still more ice around the shorelines than I often expect to find in February, let alone the end of March. That notwithstanding, birds are beginning to return:
Great Black-backed gulls (Goeland marin) and Herring gulls (Goeland argente) have both begun to take up their nesting sites on the Bon Ami Rocks in Dalhousie, while Ring-billed gulls (Goeland a bec cercle) have begun to return in numbers. The "winter" gulls have largely moved on; we found only one Glaucous gull (Goeland bourgmestre), an almost pure white third year bird, in with a flock of Great Black-backs.
We found five Double-crested cormorants (Cormoran a aigrettes) on the Rocks as well; this is early for them, but not surprisingly so. Usually, we begin to see them in small numbers by early April. The same could be said for the six Canada geese (Bernache du Canada) that we found at Eel River Bar.
For years I used to predict, with considerable confidence, that we would see our first large flocks of Robins (Merle d'Amerique) within a day or two of April 15th. For the past three years, though, that prediction has been off; they are ariving earlier these days and yesterday (March 29th) I had a flock of about 30 around the feeders and environs here in Pt. La Nim. It seems that they are moving early each year - perhaps another indicator of the subtle effects of global warming, even after such a hard winter as we have had. this year, they arrived at the same time as the first of the Red-wing blackbirds (Carouge a epaulettes) and only a day after the first of the Common grackles (Quiscale bronze).
Otherwise it is still slow locally, after the slowest winter that I can remember.
The highlight of the morning was provided by several seals (probably Grey seals - Tete de cheval by their size and rather characteristic head shapes - although they were far enough away that I wouldn't defend that identification very strongly; they may well have been Harbour seals - Phoque veau-marin) At least two were courting; the female jumped completely clear of the water on three occasions, while the larger male surged up beneath. They chased and rolled around each other, obviously having a great time, while others gathered around to watch.
This is the second spring that I have seen this activity, both right around the Bon Ami Rocks and the Inch Arran Lighthouse area in Dalhousie.
Mike Lushington