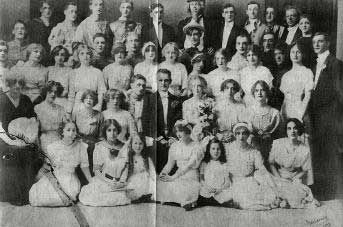 STARS OF 1913
Here is an example of the help I got identifying the people in this picture. Click on photo.
Pictures such as these are treasures in our collections of genealogy and history. When visiting this picture of stars of 1913, notice how many of these young men, were dead a few years later due to them having enlisted. Sad to see such number of young people who never got a chance to live so we could live on in peace.
Here for you to identify or add some history to are some more pictures of New Brunswick. Should you find out you know someone and know of their family, please send me the info and if you want to save a copy of the pictures, just click your right mouse, click on "save image as" and tell your computer where to save it to.
You will find other photos here, mostly military ones which need identifying
Other old photos can be found here
This form will work for those of you who have their browser setup for E-mail.
In case you dont, you can send me your comments through regular E-mail at
snobunting@hotmail.com